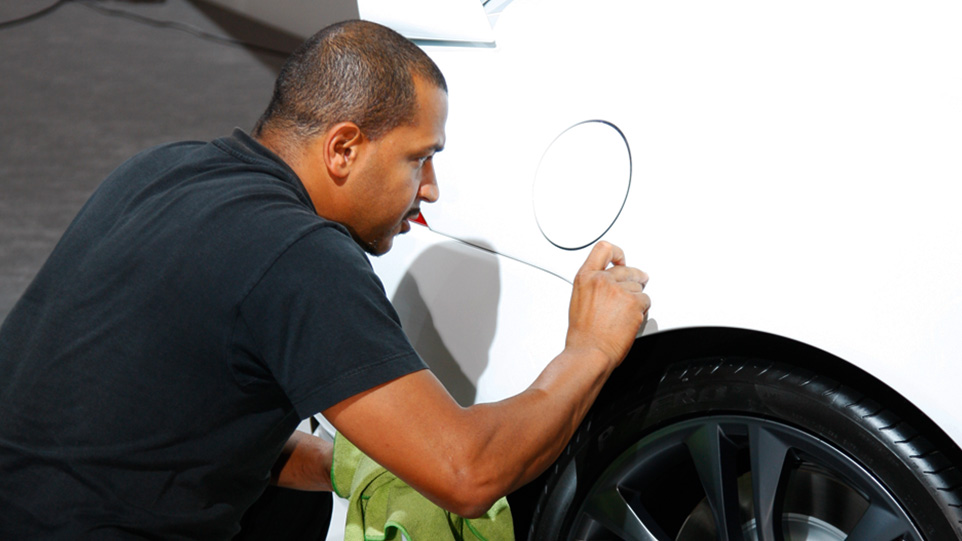 In shining form
Our professional vehicle preparation serves to maintain the value of your vehicles and to care for them. Our range of services includes basic cleaning as well as a subsequent fine cleaning and care by trained employees.
For the cleaning and preparation of automobiles we maintain specially equipped premises at our company site in Eschborn near Frankfurt. You can bring your vehicle to us after making an appointment, or make use of our pick-up and delivery service within a radius of 100 kilometres of our company's base.
Tell us what you require – we are pleased to prepare a quote for your needs.
Repairing damage to paintwork
By means of careful and expert restoration we can repair small scratches and damages to paintwork. After being touched up in our workshop, your car – whether it is a recent model or an old-timer – will have an immaculate appearance once again. This pays off, especially if you are considering selling the vehicle.
Cleaning and care
If so desired, the preparation of the vehicle by BAS can be rounded off by polishing it and/or sealing with Teflon – a service that is particularly recommended for exhibition and company vehicles.